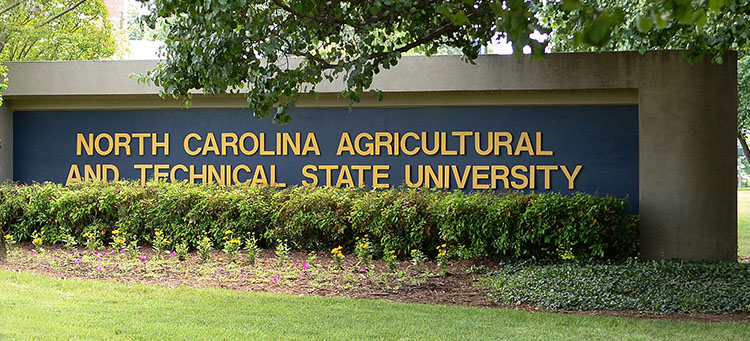 Toyota Automotive to Partner with Colleges at N.C. A&T for Toyota Day
GREENSBORO, N.C. (Feb. 3, 2017) -- Global automotive manufacturer Toyota Motor Corporation, has partnered with the College of Business and Economics (COBE) and the College of Engineering (COE) at North Carolina Agricultural and Technical State University to present Toyota Day, Tuesday, Feb. 7.
The day will include information sessions and class visits driven by Toyota representatives as well as a meet and greet. The partnership provides the perfect opportunity for students of COBE and COE to interact with professionals that are actively operating in the positions that many of them are looking to secure upon graduation as well as provide a better understanding of the various facets involved in Toyota's operations.
Toyota representatives, many of whom are N.C. A&T alumni, will play an integral part of the overall Toyota presence on campus, including the general information session and topic-driven class visits such as Management Science, Business Environment and Introduction to Supply Chain. The Toyota team will also provide interview and career tips to students in preparation for the university's upcoming career fair.
"As an A&T alumna, I think it is important to reach out to students and to provide them the necessary information to have effective interviews and to provide tips to start their career on a successful trajectory. I believe students want to have a connection with alums, who were once in their shoes," said Michaela Edwards, a route planning analyst for Toyota and a 2010 graduate of COBE. "When I was a student I valued the opportunities that I had to connect and learn from alumni who were once in my shoes. The students can benefit from viewing the pathways taken to transition from a college student to a professional."
For other Toyota representatives that will return to the university, the event offers an opportunity to extend a helping hand to a fellow Aggie.
"The first Toyota Day at N.C. A&T is the perfect time for me to have face-to-face, candid conversations with the faculty, students and staff at N.C. A&T about my experiences at Toyota and to share what a solid company Toyota is to work for. I can only hope that all former A&T students will feel compelled to return and leave the door open and the ladder down for students to follow," said Neecha McDougal, a Toyota procurement consultant in Logistics and packaging and 2012 and 2014 graduate of the COE.
The Toyota general session from 12:30 – 1:30 p.m., Tuesday, Feb. 7 will be held in the Deese Auditorium, Merrick Hall, room 125 and is open to all students. Additional class visits and meet and greets will be open to students of COBE and COE.
Points of Pride
Largest HBCU

N.C. A&T is the largest public HBCU in the nation

Engineering

N.C. A&T is the No. 1 producer of engineering degrees on the undergraduate level awarded to African Americans.

Admired CEO

Chancellor Harold Martin Sr. is named among the Triad's Most Admired CEOs by the Triad Business Journal.

Academic Excellence

The university's Center for Academic Studies in Identify Science is the first and only National Intelligence Science and Technology CASIS in the United States.

Higher Research Activity

N.C. A&T is classified as an R2: Doctoral University of Higher Research Activity by the prestigious Carnegie Classification of Institutions of Higher Education.

Teaching / Research

N.C. A&T is the highest-ranked public school for combining research and teaching by the Wall Street Journal.

Engineering Professor and Student

N.C. A&T is an inaugural and pioneering tenant of the innovative Union Square Partnership for healthcare training.
2016 MEAC Champs

N.C. A&T Women's Basketball team are the 2016 MEAC Champions

Bowl Champs

Aggies win 2015 Inaugural Air Force Reserve Celebration Bowl and Black National Championship.

Tarik Cohen

Running back Tarik Cohen broke the university and MEAC record becoming the MEAC all-time leading rusher.

Hall of Fame

The 1968 Aggies football team was inducted into the N.C. A&T Sports Hall of Fame as the first A&T team to win a black college national championship.

Aggie Track & Field

Three track & field athletes are named to the NCAA All-Academic team for excellence in their events and in the classroom; maintaining a minimum 3.25 GPA.

Kim Terrell-Kearney

Former professional bowler Kim Terrell-Kearney named N.C. A&T bowling coach

Track & Field Ranking

The United States Track & Field and Cross Country Coaches Association ranked A&T men's track and field team among the top-25 in program history.
Gail Wiggins

JOMC Professor Gail Wiggins selected as the NABJ Educator of the Year

PALO! Lyceum Series

The Band PALO! performed at N.C. A&T for the Lyceum Series

CD - Jazz Preeminence

A&T Theatre arts performs first production of "Radio Golf" by African American playwright August Wilson.

Theatre

The Theatre Program at A&T was the first accredited Bachelor of Fine Arts (BFA) at an HBCU in North Carolina; second in the nation.

Black Nativity performances

The Theatre Arts Program is nationally ranked by Black Broadway as one of the top five Theatre Arts programs for African American students

Travis Alexander

Travis W. Alexander has been named National Conductor for the 105 Voices Of History National Concert Choir