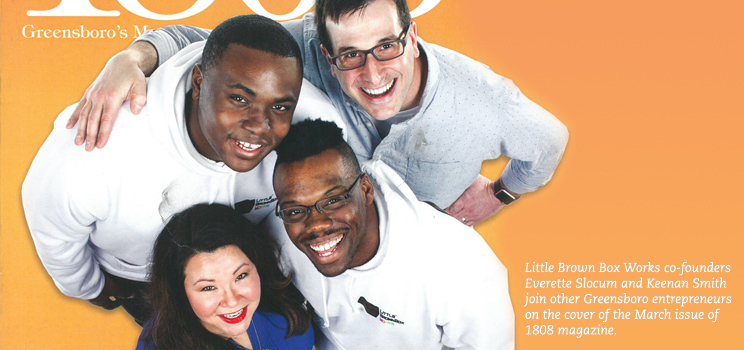 Recent Grads, Current Students Making A Splash With Web App And Design Firm
Greensboro, N.C. (Feb. 21, 2017) -- Their company may be called Little Brown Box Works, but the group of recently graduated and current North Carolina Agricultural and Technical State University students are growing an enthusiastic following and an ever-bigger impact through their mobile app, video production and web design firm.
For starters, they've already designed three successful apps, the most recent of which, Shorti, is truly a novel idea: It's a writing app that allows users to imagine, create and share short stories and poems of up to 1500 words. "Whether it's romance, action or horror, discover amazing stories from our rapidly growing community of writers," Shorti's promotional text promises.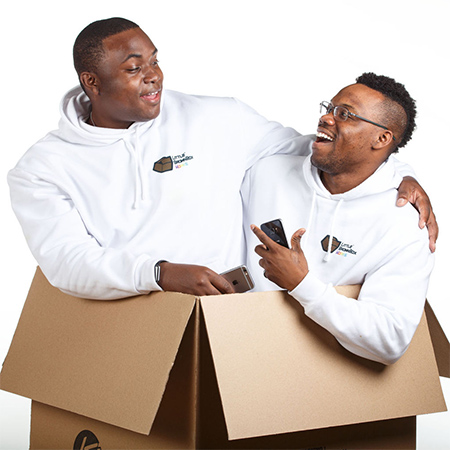 Shorti was different and intriguing enough that it recently took Little Brown Box Works all the way to the semifinals for the reality-show-in-development, Planet of the Apps. Featuring Executive Producer will.i.am as well as actors Gwynneth Paltrow and Jessica Alba and promising venture capitalist investments of up to $10 million, the show drew fierce national competition for its first season, making Shorti's semifinalist showing all the more impressive.
But Little Brown Box Works principal Keenan Smith, 24, who graduated from A&T in 2016, says the company is hardly resting on its laurels.
"I'm a big believer in the power of imagination and technology to change the world," said Keenan, who launched Little Brown Box Works with his brother, Kendrick, and friend, Everette Slocum, when the three were all studying at A&T (Slocum is still an undergraduate in his final year). "But when it's your own life that they're changing, that power feels really personal."
The trio had early success with their first two apps: Aggiesland, a go-to information hub for N.C. A&T students, and Today Was A Good Day, a positive, uplifting social media tool. Along the way, they attracted support and seed money from angel investor Troy Knauss and one of the co-founders of MapQuest, Chris Heivly, as well as lots of interest from North Carolina media and the entrepreneur community in the Greensboro area.
But the fledgling group has come into its own with Shorti. In a field dominated by software programs for mobile device direct messaging, music, photo sharing and games, an app that fosters creativity and sharing around the written word is singular, if not unique. It launched in July of 2016, and has been updated twice since.
The Shorti concept, along with an infectious submission video for the Planet of the Apps competition featuring Keenan and the newest member of Little Brown Box Works, Shorti co-creator Barry Harris, 22, propelled the group through several levels of consideration and drew lots of attention for other work along the way.
They collaborated with the A&T Center for Entrepreneurship and Innovation on Innovate91, a college student innovation showcase, which took place Feb. 21 at the Alumni Foundation Events Center on the A&T campus. The website that Little Brown Box Works designed for the event highlights the clean, current aesthetic that the developers are increasingly known for and that has already made them a popular commodity with investors and entrepreneurs. 
And in a great end to a busy month, Greensboro's 1808 magazine published its March issue, which features Keenan and Slocum on the cover and a feature inside that describes their company as "encompassing the idea that anything is possible." 
"We love what we're doing and the chance to learn something new with every idea we launch and every project we get involved in," said Keenan. "We hope we move forward in the Planet of the Apps competition, but no matter what happens, we're already richer from having entered this competition. And that's a good thing."
Points of Pride
Largest HBCU

N.C. A&T is the largest public HBCU in the nation

Engineering

N.C. A&T is the No. 1 producer of engineering degrees on the undergraduate level awarded to African Americans.

Admired CEO

Chancellor Harold Martin Sr. is named among the Triad's Most Admired CEOs by the Triad Business Journal.

Academic Excellence

The university's Center for Academic Studies in Identify Science is the first and only National Intelligence Science and Technology CASIS in the United States.

Higher Research Activity

N.C. A&T is classified as an R2: Doctoral University of Higher Research Activity by the prestigious Carnegie Classification of Institutions of Higher Education.

Teaching / Research

N.C. A&T is the highest-ranked public school for combining research and teaching by the Wall Street Journal.

Engineering Professor and Student

N.C. A&T is an inaugural and pioneering tenant of the innovative Union Square Partnership for healthcare training.
2016 MEAC Champs

N.C. A&T Women's Basketball team are the 2016 MEAC Champions

Bowl Champs

Aggies win 2015 Inaugural Air Force Reserve Celebration Bowl and Black National Championship.

Tarik Cohen

Running back Tarik Cohen broke the university and MEAC record becoming the MEAC all-time leading rusher.

Hall of Fame

The 1968 Aggies football team was inducted into the N.C. A&T Sports Hall of Fame as the first A&T team to win a black college national championship.

Aggie Track & Field

Three track & field athletes are named to the NCAA All-Academic team for excellence in their events and in the classroom; maintaining a minimum 3.25 GPA.

Kim Terrell-Kearney

Former professional bowler Kim Terrell-Kearney named N.C. A&T bowling coach

Track & Field Ranking

The United States Track & Field and Cross Country Coaches Association ranked A&T men's track and field team among the top-25 in program history.
Gail Wiggins

JOMC Professor Gail Wiggins selected as the NABJ Educator of the Year

PALO! Lyceum Series

The Band PALO! performed at N.C. A&T for the Lyceum Series

CD - Jazz Preeminence

A&T Theatre arts performs first production of "Radio Golf" by African American playwright August Wilson.

Theatre

The Theatre Program at A&T was the first accredited Bachelor of Fine Arts (BFA) at an HBCU in North Carolina; second in the nation.

Black Nativity performances

The Theatre Arts Program is nationally ranked by Black Broadway as one of the top five Theatre Arts programs for African American students

Travis Alexander

Travis W. Alexander has been named National Conductor for the 105 Voices Of History National Concert Choir