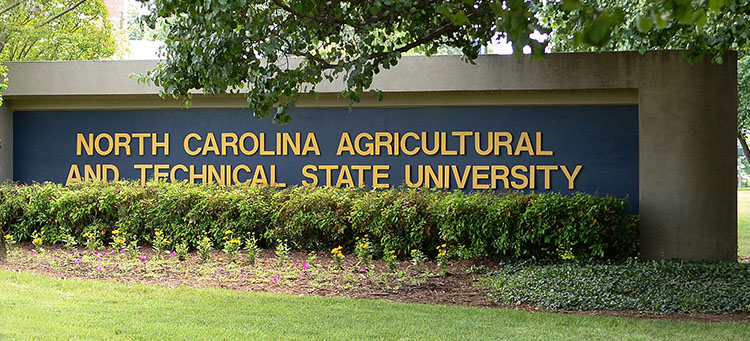 College of Science and Technology at N.C. A&T to Offer New PSM in Industrial Biosciences
Greensboro, N.C. (Jan. 18, 2017) – Beginning fall 2017, the Graduate College at North Carolina Agricultural and Technical State University will offer a Professional Science Master's (PSM) program in Industrial Biosciences. The nationally certified graduate degree concentration will provide students with advanced skills and knowledge to support commercial development.
"The PSM program in Industrial Biosciences is a carefully developed program," said Sanjiv Sarin, dean of the Graduate College. "I think it will be very successful in attracting high-quality students from bioscience-related businesses
The program's cross-disciplinary approach is in keeping with a growing national movement reflected in over 320 PSM programs around the country established across multiple areas in science and technology. The program is part of a nationwide initiative guided by the National Professional Science Master's Association. Affiliation of a PSM graduate degree program is based upon review by the PSM National Office.
Students in N.C. A&T's specialized program will pursue advanced training and excel in science or math without having to obtain a Ph.D. and will develop highly valued business skills.
Faculty within the Department of Biology at N.C. A&T have been coordinating the Industrial Biosciences PSM curriculum with area professionals from industry to make sure students will be engaged and receive instruction on the most relevant and current concepts.
"The dynamic frontiers of biomedical research and biotechnology require that graduates not only have strong competencies in biomedical protocol design and data analysis, but also in project management," said Scott Harrison, Ph.D., organizer of the Industrial Biosciences PSM program and a faculty member in the Department of Biology.
The development of a PSM program requires a combination of advanced training in the sciences along with additional coursework for training in business, management and communication. "Our PSM program provides an opportunity to jointly develop acumen in both science and business in a graduate experience structured around industry related projects," said Harrison.
Participants in PSM programs around the country have found there to be great value in the opportunity to acquire specific skills and knowledge in support of their aspirations for careers in business, government, and non-profit organizations, N.C. A&T officials say.
Both current undergraduate students and working career professionals are encouraged to apply. Visit the Industrial Biosciences PSM program online for more information or email gradbio@ncat.edu.
Points of Pride
Largest HBCU

N.C. A&T is the largest public HBCU in the nation

Engineering

N.C. A&T is the No. 1 producer of engineering degrees on the undergraduate level awarded to African Americans.

Admired CEO

Chancellor Harold Martin Sr. is named among the Triad's Most Admired CEOs by the Triad Business Journal.

Academic Excellence

The university's Center for Academic Studies in Identify Science is the first and only National Intelligence Science and Technology CASIS in the United States.

Higher Research Activity

N.C. A&T is classified as an R2: Doctoral University of Higher Research Activity by the prestigious Carnegie Classification of Institutions of Higher Education.

Teaching / Research

N.C. A&T is the highest-ranked public school for combining research and teaching by the Wall Street Journal.

Engineering Professor and Student

N.C. A&T is an inaugural and pioneering tenant of the innovative Union Square Partnership for healthcare training.
2016 MEAC Champs

N.C. A&T Women's Basketball team are the 2016 MEAC Champions

Bowl Champs

Aggies win 2015 Inaugural Air Force Reserve Celebration Bowl and Black National Championship.

Tarik Cohen

Running back Tarik Cohen broke the university and MEAC record becoming the MEAC all-time leading rusher.

Hall of Fame

The 1968 Aggies football team was inducted into the N.C. A&T Sports Hall of Fame as the first A&T team to win a black college national championship.

Aggie Track & Field

Three track & field athletes are named to the NCAA All-Academic team for excellence in their events and in the classroom; maintaining a minimum 3.25 GPA.

Kim Terrell-Kearney

Former professional bowler Kim Terrell-Kearney named N.C. A&T bowling coach

Track & Field Ranking

The United States Track & Field and Cross Country Coaches Association ranked A&T men's track and field team among the top-25 in program history.
Gail Wiggins

JOMC Professor Gail Wiggins selected as the NABJ Educator of the Year

PALO! Lyceum Series

The Band PALO! performed at N.C. A&T for the Lyceum Series

CD - Jazz Preeminence

A&T Theatre arts performs first production of "Radio Golf" by African American playwright August Wilson.

Theatre

The Theatre Program at A&T was the first accredited Bachelor of Fine Arts (BFA) at an HBCU in North Carolina; second in the nation.

Black Nativity performances

The Theatre Arts Program is nationally ranked by Black Broadway as one of the top five Theatre Arts programs for African American students

Travis Alexander

Travis W. Alexander has been named National Conductor for the 105 Voices Of History National Concert Choir