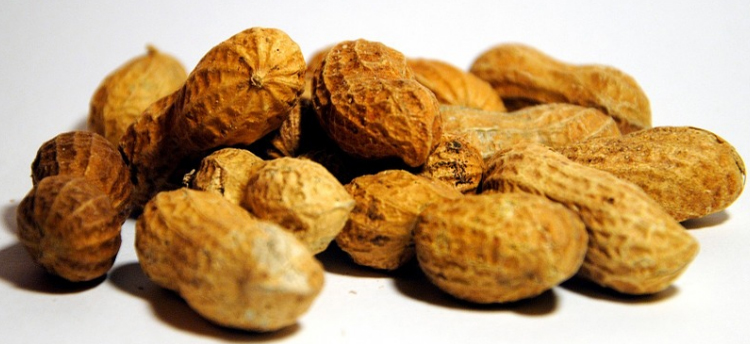 The New York Times Magazine spotlights N.C. A&T's peanut research
The New York Times Magazine, one of journalism's most influential publications, shone a spotlight over the holidays on North Carolina A&T State University's groundbreaking research on allergen-reduced peanuts – science that could benefit millions around the country.
The Times focused on the work in its late December feature, "Is It Possible To Make A Less-Allergenic Peanut?" It not only discussed the foundational research done at N.C. A&T, but the transfer of the resulting intellectual property to a Greensboro, N.C., based food-technology startup, Alrgn Bio, that is developing specially treated peanuts for a marketplace in growing need of that solution.
The number of children living with peanut allergies in this country nearly tripled between 1997 and 2008. The 3 million people with peanut allergies in the United States continues to grow, with life-and-death consequences for its most sensitive sufferers.
For them, the N.C. A&T research represents a lifeline toward a future where coming into contact with the country's most popular legume might no longer be deadly. 
"The peanut-cleansing method used by Alrgn Bio evolved from experiments dating back to 2005, when biochemists at North Carolina Agricultural and Technical State University in Greensboro started mixing peanut extracts with trypsin, an enzyme found in the human intestine, to see whether the enzyme could break down the proteins" that scientists had discovered were causing allergies, the magazine reported.
"The university researchers later turned to Alcalase, an enzyme that can break down an even broader range of proteins and that is used in some foods like marinades. (It's also found in laundry detergent, where it chews up stains from protein-rich foods like eggs and gravy.) The Alcalase-treatment process now yields peanuts that look similar to those sold at the supermarket, aside from being a slightly darker shade."
The research emanated from the labs of the College of Agriculture and Environmental Sciences, which has a rich history of innovation and application of cutting-edge technology. Related work continues today through the college's Center for Excellence in Post-Harvest Technologies, funded by the U.S. Department of Agriculture and other leading food research entities.
As the college's reputation and impact continues to grow, so does its enrollment, which has expanded by more than 75 percent since 1990. Students not only receive a world-class education but commonly have the opportunity to participate in research projects in a broad and growing range of areas, from food microbiology to biosystems engineering to natural resources management.
Read the Times' peanut story in its entirety here.
Points of Pride
Largest HBCU

N.C. A&T is the largest public HBCU in the nation

Engineering

N.C. A&T is the No. 1 producer of engineering degrees on the undergraduate level awarded to African Americans.

Admired CEO

Chancellor Harold Martin Sr. is named among the Triad's Most Admired CEOs by the Triad Business Journal.

Academic Excellence

The university's Center for Academic Studies in Identify Science is the first and only National Intelligence Science and Technology CASIS in the United States.

Higher Research Activity

N.C. A&T is classified as an R2: Doctoral University of Higher Research Activity by the prestigious Carnegie Classification of Institutions of Higher Education.

Teaching / Research

N.C. A&T is the highest-ranked public school for combining research and teaching by the Wall Street Journal.

Engineering Professor and Student

N.C. A&T is an inaugural and pioneering tenant of the innovative Union Square Partnership for healthcare training.
2016 MEAC Champs

N.C. A&T Women's Basketball team are the 2016 MEAC Champions

Bowl Champs

Aggies win 2015 Inaugural Air Force Reserve Celebration Bowl and Black National Championship.

Tarik Cohen

Running back Tarik Cohen broke the university and MEAC record becoming the MEAC all-time leading rusher.

Hall of Fame

The 1968 Aggies football team was inducted into the N.C. A&T Sports Hall of Fame as the first A&T team to win a black college national championship.

Aggie Track & Field

Three track & field athletes are named to the NCAA All-Academic team for excellence in their events and in the classroom; maintaining a minimum 3.25 GPA.

Kim Terrell-Kearney

Former professional bowler Kim Terrell-Kearney named N.C. A&T bowling coach

Track & Field Ranking

The United States Track & Field and Cross Country Coaches Association ranked A&T men's track and field team among the top-25 in program history.
Gail Wiggins

JOMC Professor Gail Wiggins selected as the NABJ Educator of the Year

PALO! Lyceum Series

The Band PALO! performed at N.C. A&T for the Lyceum Series

CD - Jazz Preeminence

A&T Theatre arts performs first production of "Radio Golf" by African American playwright August Wilson.

Theatre

The Theatre Program at A&T was the first accredited Bachelor of Fine Arts (BFA) at an HBCU in North Carolina; second in the nation.

Black Nativity performances

The Theatre Arts Program is nationally ranked by Black Broadway as one of the top five Theatre Arts programs for African American students

Travis Alexander

Travis W. Alexander has been named National Conductor for the 105 Voices Of History National Concert Choir