Objective 4: Experiential learning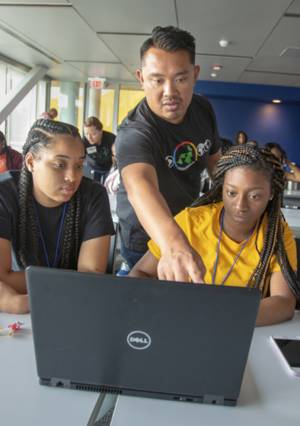 The MEA Center of Excellence will support experiential learning opportunities for students, K-16, to promote the development of soft skills, research skills, leadership skills, technology skills and international engagement. 
Survey results from more than 200 employers indicate that positions often remain open because employers can't find applicants who are motivated and possess strong interpersonal skills. The need for students with better soft skills is clear.
Researchers have found that soft skills predict success in life and, potentially, work. With respect to research experiences, a recent study showed that underrepresented students who completed 10 or more hours of co-curricular research and conducted faculty-mentored research weekly were more likely to graduate with a science-related bachelor's degree.
Center partners will build on partnering institutions' existing frameworks for high school and undergraduate research programs, in-person and online soft-skill training, and K-16 leadership programs that can support the entire 1890 land-grant system.
The center also will help partners expand opportunities for study abroad by underrepresented minorities studying food, agriculture, natural resources and human (FANH) sciences and related STEM fields. To achieve this, the MEA Center of Excellence will leverage and collaborate with the Center of Excellence for International Engagement and Development, an 1890 Center of Excellence based at the University of Maryland Eastern Shore, to involve more underrepresented students in study abroad opportunities.
All center partners will share their experiences with international engagement and support other 1890 institutions in expanding their international programs.
Objective Leaders
Michelle Corley, Ph.D., Virginia State University
Jurgen G. Schwartz, Ph.D., University of Maryland Eastern Shore