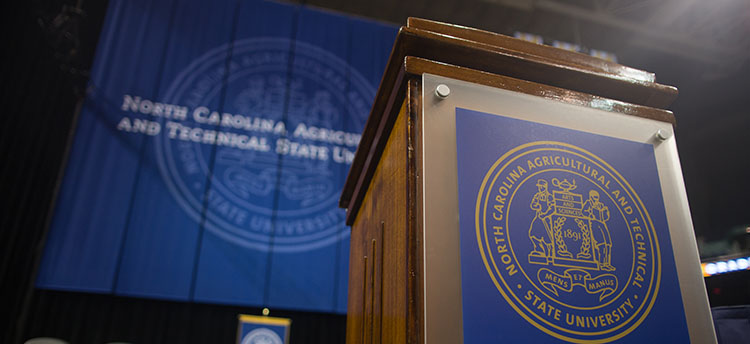 Fall 2017 Commencement Stories
Jean 

Olivier

 

Beya
Jean Olivier Beya speaks about five different languages and has lived in about nine different countries including his native Congo as well as Belgium, Cameroon and others. Of all the things he has learned and observed throughout his family's travels, he has developed a keen sense of what "just feels right." He recognized it as soon as he arrived at North Carolina A&T.  

"I transferred in (to A&T) after taking classes at North Carolina State University and Wake Technical Community College. A&T has been a great experience.," said Beya. "The atmosphere here is different. It's more of a family where people are working with one another. There's not a lot of competition. Just a meeting of intellectual minds and fueling each other for success." 


A computer science student, Beya wasted no time joining the ranks of those pushing toward success. The same year he transferred to A&T, he had two internships. One of which, he made such an impression one of the companies propositioned him with a very sweet return offer. 

"I had the opportunity to work with VPs and directors. The work I did impacted them directly," said Beya. "I used an IBM framework to create a model that automated their need to track projects and make decisions based on the findings."  

While it was Beya's first official professional offer, it certainly wasn't his first run at designing and implementing computer programs. Nearly the entire time he has been here, he has been working as a freelance mobile application designer and developer. Even he admits it's a pretty good gig for a college student. 

"I have a passion to help people achieve their goals through technology," he said. "I was able to design an app for an automotive lab enabling them to input report info into the app, which significantly increased productivity."  

His passion to help and team mentality has left a lasting impression across campus and beyond. Helping to revive the Association for Computing Machinery, he served as its pre-college initiative chair. In fall 2016, he and others reached out to local high schools to get students interested in computer science. The outreach began with the A&T Middle College. The impact was life-changing. 

"It was very interesting to hear what the students had to say and thought about computer science and what a computer science student is," said Beya. "They had stereotypes that computer science is for geeks and it's not cool. I showed them anybody could do it. It was no longer nerdy when I showed them they could design their own video games." 

There's also nothing "nerdy" about receiving multiple job offers from some of the world's leading companies. Beya has received offers from AT&T, Saber, Microsoft, LG Innovation, Axios and others. However, one captured his attention. 

"I'll be heading to Cambridge, Massachusetts, working for Microsoft as a software engineer," said Beya. "During the interviews (he had two, at nearly eight hours each) you had to be creative and think on your toes and show you can solve problems and that you know your stuff."

He clearly knows his stuff. As a member of A&T's Black Enterprise Hackathon team that won back to back first place, he understands teamwork, the necessity of vision and has the skill set. He's well on his way. 

And Beya says he's ultimately making and working his way to graduate school at MIT. Computer system and design management will be his focus. If history repeats, he will most certainly achieve his goal.
---
Ambria Edwards Collazo 
When tragedy struck Ambria Edwards Collazo's family, she did the only thing she could do. She gathered herself, including her unexplainable inner strength, picked up the pieces and did her best to create a normal and stable life – as normal as it could be. 
"My sister, mom, dad and brother were hit by an 18-wheeler two years ago. My sister was the only survivor. I took guardianship of her to raise along with my two sons," said Collazo. 
Her normal was changed overnight, but her perseverance and resolve to move forward despite the numerous setbacks she encountered intensified. 
Feeling pressured in her hometown of Jacksonville, North Carolina, for various reasons, Collazo had a decision to make regarding her family – stay and endure or gather up what remained and establish elsewhere. The answer to her question came in the form of a letter in the mail. 
"I felt attacked from everywhere back home and I didn't know what to do," she said. "A&T sent me a letter that said if I wanted to come back they would accept me. I took that as a sign. Financial aid indicated they would take care of the school part. I just had to handle home and life. I took it and ran with it." 
Living and dealing with everyday "life" is partially the reason why Collazo initially left A&T in 2006. Returning 10 years later, proved to be easier said than done, but she was driven to succeed for her kids. 
"Everyone always says I'm going to go back, but it's not always that easy. I sort of asked my kids, because it would certainly affect them," she said of moving to Greensboro and returning to school. 
Not only was her return not easy, but it required a delicate balancing act between multiple parties on and off campus. 
"After school care, daycare and my classes all had to be perfectly timed or everything would be perfectly messed up," said Collazo. 
"There were times when I had no other choice but to bring my kids with me to class. No student or teachers ever complained. Even on test days. Teachers offered to hold my son while I studied and took notes. Students offered snacks and tried to accommodate and help and that meant everything to me. It could have been just one student who was uncomfortable and it would have been over for me, but that never happened. I am extremely grateful." 
Armed with her degree in sports science and fitness management with a concentration in business administration, Collazo will tap her passion and aptitude for nutrition science following graduation. She has accepted an offer to work in the nutrition research department at A&T while attending the university's graduate college.
---
Darrell McNeill Sr.
Darrell McNeil Sr. began his collegiate career at North Carolina A&T in 1984. It was his birthday to be exact. On Dec. 9, 2017, 33 years later, he will finally receive his coveted and long-awaited degree.
His delayed status wasn't by decision, rather circumstance. In 1989, he was preparing to graduate with a degree in business. However, all his preparations and planning could have never prepared him for what would happen next.
"In 1989, I had a couple classes to finish," said McNeill. This one day I was headed to ECON 501. I ended up with a serious headache that I couldn't shake throughout the day. I headed home and took medicine. A few hours later my roommates were rushing me to the hospital. Later that day I was diagnosed with spinal meningitis."
Given a dim prognosis, McNeill's mom consented to him being given experimental medication. The good news was that the medicine killed the deadly bacteria. The bad news was that it also deteriorated the part of his brain that controlled memory.
"I went through at least one-and-a- half years of therapy for my memory loss. That's why I didn't have a chance to return to school. It affected my short and long-term memory," said McNeill. "I still have lingering effects, but they aren't very significant."
Once he regained his strength, McNeill was convinced, school had to wait. With a son on the way, he decided that he had to get himself together for his family.
"My thoughts were of my wife and child. I knew I had to provide for them. I started working. That's when I got involved in the logistics career that I'm in now," he said.
Although McNeill desperately wanted his degree from A&T, family, work and life seemed to keep pushing the necessity of achieving it further and further from his reach.
Currently the owner of Facility Logistics Services, a logistics and manufacturing labor company with two locations in North Carolina and three in Wisconsin, McNeil's success gave credence to those who always assumed he already secured his degree and at the same time provided merit for those who deemed it unnecessary.
"I gradually became very successful without the degree. And even when I started to feel better about not having it, there was always a missing piece," he said. "I walked around this city with people assuming I had it. I never said I did, but I also never said I didn't. It started to eat at me because I wanted it."
And for McNeil, it was A&T or bust.
"There was no other choice. I would have lived my life without a degree if I couldn't have gotten it from A&T," he said.
"A friend told me she had the answer. I let it go for a few months, then I decided to check it out," said McNeil. After filling out the application, an Aggies at the Goal Line administrator got right back with me and I realized it was really going to happen."
Not only did it happen, but it happened quickly. After only two semesters back on campus, McNeill will receive a Bachelor of Arts in Liberal Studies, stamped with the A&T seal. And McNeill will be a certified Aggie alumnus.


---
Elizabeth Saunders
Since 2013, long days and nights have been commonplace for Elizabeth Saunders. From the study time required for her pre-physical therapy major to the demands and rigorous schedule of her beloved Golden Delight squad, there's little time for much else. But if you ask Saunders, she wouldn't have it any other way. 
"It's all about time management. Once you get behind its pretty much no catching up then. That's one of the things band has taught me," she said. And she has learned to adapt that principle in other areas as well. 
"School work and the team have consumed my time at A&T, but not in a bad way. Our motto is school, band and everything else after that." 
"Everything else" can still be filed under academics and the Golden Delight squad. From the time Saunders was little, she was sure of two things: her life's profession had to provide a service to someone else and dance would always be a part of her life. Intrinsically, she has managed to weave them together in a way that perfectly suits her creative and caring personality. 
"Physical therapy is a very hands-on job and I know that I will have a hand in improving someone else's life and just by being optimistic I can help them to look on the bright side of things," she says of her chosen career. 
But she also realizes the joy she brings to others every time she performs with the band, not to mention the joy it brings to her own heart. 
"I love to dance. I have participated in some type of dance throughout the majority of all my school years. And here at A&T it makes me happy when I see how happy and excited people get when the band comes around," she said. "I will always dance in some capacity." 
While Saunders is preparing for her final days on campus, time with her "Golden Delight sisters" will be extended for just a little longer. She has two performances left in her tank, the Celebration Bowl Championship and the 2018 Honda Battle of the Bands – and she can't wait. 
"Performing is such a rush. You work so hard and go through so much for that one moment. Then when you do it, you realize this is what it's all about and it makes all the hard work worthwhile," she said. 
"I just enjoy helping people and knowing that I had a hand in helping someone realize their full potential."
In just a few short days she will receive her Bachelor of Science in sports science and fitness management, then she's off to graduate school, ultimately earning her doctorate.
Whether she's helping someone as a physical therapist or offering joy through dance, Saunders is certain to make a lasting and positive impression and for her that's what's most important.
---
Desiree Wade 
When she was 16, Desiree Wade was certain of the professional path she wanted to take in life. Marketing transportation and supply chain management is the route she would take. It sounds like a lofty professional decision and goal to set at such a young age, but her experiences in the College of Business and Economics' Summer Transportation Institute provided her all the insight, knowledge and experience she needed to make a sound decision. 
Not only did the summer institute showcase "Black excellence" in a way that Wade had never seen, but she says the foundation and groundwork it laid was invaluable. 
"Deborah Underwood, our director (of the program) made sure that we were also showcasing examples of Black excellence," said Wade of the program. "Within the institute we attended conferences, toured ports, distribution and manufacturing centers and Department of Transportation projects." 
"All of that helped me choose the perfect industry for me. It's fast paced and it's an industry that will never die out."
For all of the knowledge that she gained in the institute and throughout her studies in marketing transportation and supply chain management, it didn't hurt that Wade had prior exposure to the transportation field. Her father has owned a trucking company for quite some time and as an undergraduate student she operated as the office manager for the company. 
"Right now, I am part owner, ultimately my goal is to expand the business and start a fleet company," she said. She's currently eyeing Charlotte as the next location.
Although Wade attributes a great deal of her success to her early exposure to the industry, she says it has been the university that has equipped her with the additional entrepreneurial assets she needs to navigate business ownership, including internships with the North Carolina Department of Transportation and NFI Industries, a logistics provider offering domestic and international supply chain solutions.
In the midst of working with her father's company, she managed to secure yearly scholarships through the Transportation Institute and her campus activities never waned. In Fact, they may have increased. As a peer mentor on campus as well as to local high schools, serving on various campus committees and operating as a member of the transport and supply chain professionals network, her work ethic has never been compromised.
"I definitely have the skills necessary to manage myself as well as a business. I've learned to be responsible and I'm motivated. No one has to push me to succeed," she said. 
---
Points of Pride
Largest HBCU

N.C. A&T is the largest public HBCU in the nation

Engineering

N.C. A&T is the No. 1 producer of engineering degrees on the undergraduate level awarded to African Americans.

Admired CEO

Chancellor Harold Martin Sr. is named among the Triad's Most Admired CEOs by the Triad Business Journal.

Academic Excellence

The university's Center for Academic Studies in Identify Science is the first and only National Intelligence Science and Technology CASIS in the United States.

Higher Research Activity

N.C. A&T is classified as an R2: Doctoral University of Higher Research Activity by the prestigious Carnegie Classification of Institutions of Higher Education.

Teaching / Research

N.C. A&T is the highest-ranked public school for combining research and teaching by the Wall Street Journal.

Engineering Professor and Student

N.C. A&T is an inaugural and pioneering tenant of the innovative Union Square Partnership for healthcare training.
2016 MEAC Champs

N.C. A&T Women's Basketball team are the 2016 MEAC Champions

Bowl Champs

Aggies win 2015 Inaugural Air Force Reserve Celebration Bowl and Black National Championship.

Tarik Cohen

Running back Tarik Cohen broke the university and MEAC record becoming the MEAC all-time leading rusher.

Hall of Fame

The 1968 Aggies football team was inducted into the N.C. A&T Sports Hall of Fame as the first A&T team to win a black college national championship.

Aggie Track & Field

Three track & field athletes are named to the NCAA All-Academic team for excellence in their events and in the classroom; maintaining a minimum 3.25 GPA.

Kim Terrell-Kearney

Former professional bowler Kim Terrell-Kearney named N.C. A&T bowling coach

Track & Field Ranking

The United States Track & Field and Cross Country Coaches Association ranked A&T men's track and field team among the top-25 in program history.
Gail Wiggins

JOMC Professor Gail Wiggins selected as the NABJ Educator of the Year

PALO! Lyceum Series

The Band PALO! performed at N.C. A&T for the Lyceum Series

CD - Jazz Preeminence

A&T Theatre arts performs first production of "Radio Golf" by African American playwright August Wilson.

Theatre

The Theatre Program at A&T was the first accredited Bachelor of Fine Arts (BFA) at an HBCU in North Carolina; second in the nation.

Black Nativity performances

The Theatre Arts Program is nationally ranked by Black Broadway as one of the top five Theatre Arts programs for African American students

Travis Alexander

Travis W. Alexander has been named National Conductor for the 105 Voices Of History National Concert Choir