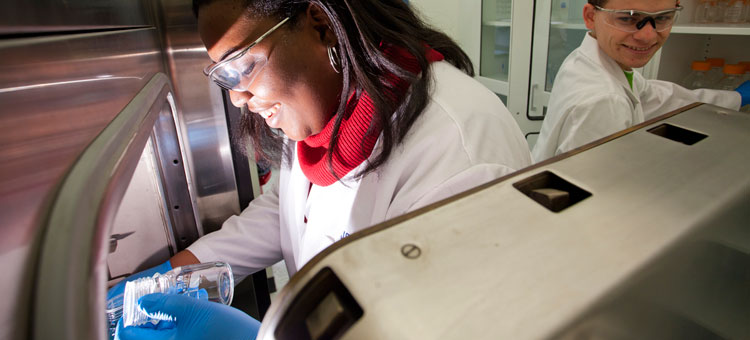 Graduate Programs
North Carolina A&T State University is a member of the University of North Carolina system and is located in Greensboro in the state of North Carolina, USA.  It offers 9 doctoral degree programs (11 concentrations), 29 master's programs (46 concentrations) one post-master's certificate program and 8 post-baccalaureate certificate programs in collaboration with eight colleges, with cutting-edge research opportunities within interdisciplinary research centers.
The academic programs are offered through colleges in agriculture and environmental sciences, arts, humanities, and social sciences, business and economics, education, engineering, health and human services, joint school of nanoscience and nanoengineering, science and technology. Please contact us for more information on how we can help advance your studies.
We offer the following graduate programs.  Click the name of the degree program to view application deadlines and additional information about the program.  An * indicates that the program is available online
(Office of Distance Learning).    Read Notice for applicants from outside the State of North Carolina  
Doctoral Programs
Master's Programs
Master of Business Administration (MBA) •  Master of Arts (MA) • Master Arts in Education (MAEd) • Master of Arts in Teaching (MAT)• Master of Science (MS) • Master of School Administration (MSA) • Master of Social Work (MSW)
MBA Business Administration
Accounting
Human Resource Management
Supply Chain Systems

MA English and African American Literature
MAT Child Development: Early Education & Family Studies Birth-K
MAT Family and Consumer Sciences Education *
MAT Physical Education and Health
MS Agricultural Education *
Professional Licensure
Professional Service
MS Agricultural and Environmental Systems
Integrated Animal Health Systems
Agribusiness & Food Industry Management
Natural Resources and Environmental Systems
MS Biology
Professional Science Masters in Biology

MS Chemical Engineering
MS Chemistry
Professional Science Masters in Chemistry

MS Civil Engineering
MS Computational Science and Engineering
MS Food and Nutritional Science
MS Industrial and Systems Engineering
MS Mental Health Counseling
Clinical
Rehabilitation Counseling

MS Nanoengineering

MS Physics
MS Technology Management *
Professional Science Masters in Technology Management - Construction Science and Management *

MSA School Administration
MSW Social Work (Joint program with UNCG)
Post-Baccalaureate Certificate Programs
Post-Master's Certificate Programs (Earned Master's degree required)
Effective Fall 2016, this program is not admitting new students until further notice.
Post-Baccalaureate Studies (PBS) Non-Degree Seeking 
General Application for Admission Deadlines
Fall: Domestic - August 5
Spring: January 5
Summer:  May 5
Admission/test requirements: Online application, fee, official transcripts (unofficial transcript is required for NCA&T graduates last 10 years), an earned undergraduate degree.
Program Contact: Teresa Graves, 336-285-2366, tgraves@ncat.edu
Program website Application Instructions
Points of Pride
Largest HBCU

N.C. A&T is the largest public HBCU in the nation

Engineering

N.C. A&T is the No. 1 producer of engineering degrees on the undergraduate level awarded to African Americans.

Admired CEO

Chancellor Harold Martin Sr. is named among the Triad's Most Admired CEOs by the Triad Business Journal.

Academic Excellence

The university's Center for Academic Studies in Identify Science is the first and only National Intelligence Science and Technology CASIS in the United States.

Higher Research Activity

N.C. A&T is classified as an R2: Doctoral University of Higher Research Activity by the prestigious Carnegie Classification of Institutions of Higher Education.

Teaching / Research

N.C. A&T is the highest-ranked public school for combining research and teaching by the Wall Street Journal.

Engineering Professor and Student

N.C. A&T is an inaugural and pioneering tenant of the innovative Union Square Partnership for healthcare training.
2016 MEAC Champs

N.C. A&T Women's Basketball team are the 2016 MEAC Champions

Bowl Champs

Aggies win 2015 Inaugural Air Force Reserve Celebration Bowl and Black National Championship.

Tarik Cohen

Running back Tarik Cohen broke the university and MEAC record becoming the MEAC all-time leading rusher.

Hall of Fame

The 1968 Aggies football team was inducted into the N.C. A&T Sports Hall of Fame as the first A&T team to win a black college national championship.

Aggie Track & Field

Three track & field athletes are named to the NCAA All-Academic team for excellence in their events and in the classroom; maintaining a minimum 3.25 GPA.

Kim Terrell-Kearney

Former professional bowler Kim Terrell-Kearney named N.C. A&T bowling coach

Track & Field Ranking

The United States Track & Field and Cross Country Coaches Association ranked A&T men's track and field team among the top-25 in program history.
Gail Wiggins

JOMC Professor Gail Wiggins selected as the NABJ Educator of the Year

PALO! Lyceum Series

The Band PALO! performed at N.C. A&T for the Lyceum Series

CD - Jazz Preeminence

A&T Theatre arts performs first production of "Radio Golf" by African American playwright August Wilson.

Theatre

The Theatre Program at A&T was the first accredited Bachelor of Fine Arts (BFA) at an HBCU in North Carolina; second in the nation.

Black Nativity performances

The Theatre Arts Program is nationally ranked by Black Broadway as one of the top five Theatre Arts programs for African American students

Travis Alexander

Travis W. Alexander has been named National Conductor for the 105 Voices Of History National Concert Choir